Meetings and seminars in a stimulating environment
The Deidesheimer Hof is a magical combination of old building culture with all the amenities of our time. This ambience has already brought many big names from world history to us in Deidesheim. Because a stimulating environment inspires the senses and gives wings to the mind.
We work out your complete conference and event program individually and with your special wishes in mind. Our different conference rooms for up to 120 people have everything you need to keep your brain working successfully. For example, the former wine press house (Kelterhaus) with garden house (Gartenhaus) and studio (Kelterhaus-Atelier) presents itself in style. Bright and friendly, modern and comfortable with direct access to the courtyard garden (Hofgarten), it is now a popular place for conferences and festivities of all kinds. Just as tastefully restored, our barn (Scheune) shows its rustic interior, which invites you to carefree celebrations and relaxed conferences. Perfect equipment, charming service and an inspiring ambience generate good ideas and release fresh energy.
And we also offer you an imaginative variety for creative breaks: from hiking through the vineyards to mountain bike rides to off-road tours through the terrain. The beautiful Palatinate cultural landscape offers a lot of possibilities.
Here we have our current conference packages for you at a glance (bookable from 8 people):
Our conference packages
…. for your success

The packages apply for a minimum of 8.

Half day

Benefits:
Rental of one of our conference rooms
Standard conference equipment with flipchart and screen
including pads and pens
Mineral water during meeting
Coffee break either with fruit basket, tray-baked cakes,
cookies, croissants or sandwiches
2-courses seasonal lunch / dinner or snack buffet
including 1 small mineral water or softdrink

per person 59 €


Business

Benefits:
Rental of one of our conference rooms
Standard conference equipment with flipchart and screen
including pads and pens
Mineral water during meeting
Morning coffee break either with fruit basket, yogurt with fruits,
croissants, sandwiches, buttered brezels or energetic bar
2-courses seasonal lunch or snack buffet
including 1 small mineral water or softdrink
Afternoon coffee break either with tray-baked cakes, cookies,
buttered brezels or energetic bar

per person 68 €
All day

Benefits:
Rental of one of our conference rooms
Standard conference equipment with flipchart and screen
including pads and pens
Mineral water during meeting
Morning coffee break either with fruit basket, yogurt with fruits,
croissants, sandwiches, buttered brezels or energetic bar
2-courses seasonal lunch or snack buffet
including 1 small mineral water or softdrink
Afternoon coffee break either with tray-baked cakes, cookies,
buttered brezels or energetic bar
3-courses seasonal dinner in our restaurant Sankt Urban
including 1 small mineral water or softdrink

per person 112 €


Gourmet

Benefits:
One single room for one night including breakfast
Rental of one of our conference rooms
Standard conference equipment with flipchart and screen
including pads and pens
Mineral water during meeting
Morning coffee break either with fruit basket, yogurt with fruits,
croissants, sandwiches, buttered brezels or energetic bar
2-courses seasonal lunch or snack buffet
including 1 small mineral water or softdrink
Afternoon coffee break either with tray-baked cakes, cookies,
buttered brezels or energetic bar
4-courses gourmet dinner in our fine dining restaurant Schwarzer Hahn

per person 336 €
Do You Have Questions? Ms. Bianca Rodrigues Marques and the Hahn family are happy to be your personal contacts.
06326 - 96870, info@deidesheimerhof.de / bianca.rodrigues@deidesheimerhof.de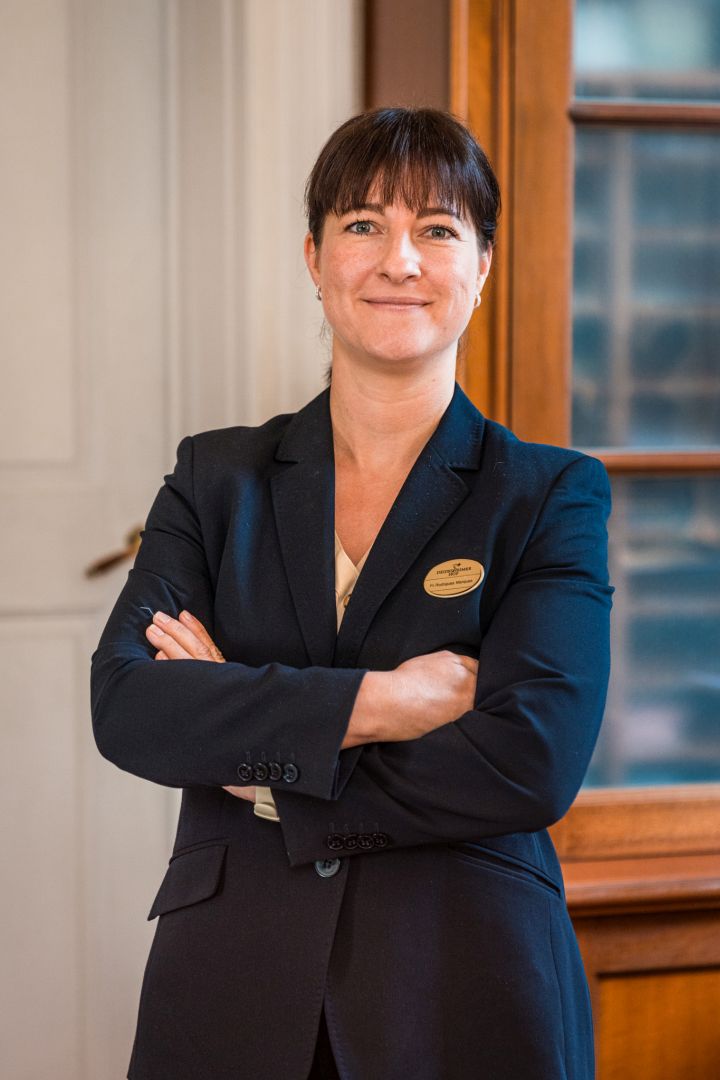 Sales Manager Ms. Bianca Rodrigues Marques